Solid Products TMAO 98% Good Fish Feed Additive
Trimethylamine dihydrate is easy to dissolve and condense, so it should be placed in a dry environment for sealed storage. The presence of trimethylamine oxide in nature is a natural endogenous substance in aquatic products and a characteristic substance that distinguishes aquatic products from other animals. Unlike DMPT, which mainly exists in Marine products, TMAO content in Marine fish muscles is higher than that in freshwater fish.
Name: Trimethylamine oxide, dihydrate
Formula:C3H13NO3
Molecular Weight:111.14.
Assay:≥98%
Feed additives TMAO Usage & dosage
For sea-water shrimp, fish, eel & crab: 1.0-2.0 KG/Ton complete feed
For fresh-water shrimp & Fish: 1.0-1.5 KG/Ton complete feed
Physical and Chemical Properties:
Appearance:white needle crystal powder
Melting point:93--95℃
Solubility: soluble in water(45.4gram/100ml).methanol,slightly soluble in ethanol,insoluble in diethyl ether or benzene
Our products are divided into three parts : food &feed additives,pharmaceutical intermediates and oilfield auxiliaries. the feed additives devotes to the research and production of betaine hcl, anhydrous betaine , compound betaine,DMT, DMPT, TRIMETHYLAMINE N-OXIDE(TMAO) , And on going technology updates , the technology in a leading position . Pharmaceutical intermediates and oilfield anuxiliaries include piperidone series , anthracene series, glycerol derivatives.
Feed grade feed additives Feature:
1. Promote proliferation of muscle cell to increase the growth of muscle tissue.
2. Increase the volume of bile and reduce fat deposition.
3. Regulate the osmotic pressure and accelerate mitosis in aquatic animals.
4. Increase feed conversion rate.
5. Increase lean meat percentage.
6. A good attractant which strongly promotes the feeding behavior.
Instructions:
1.TMAO has weak oxidability, so it should be avoided to contact with other feed additives with reducibility. It may also consume certain antioxidant.
2.Foreign patent reports that TMAO can reduce the intestinal absorption rate for Fe(reduce more than 70%), so the Fe balance in formula should be noticed.
Storage: Well-sealed, store in a cool dry place and keep away from moisture and light
Package: 25kg/bag
Shelf life: 12 Months, The product is easy to absorb moisture caking, Within the one year, if blocked, crushed it, doesn`t affect the quality.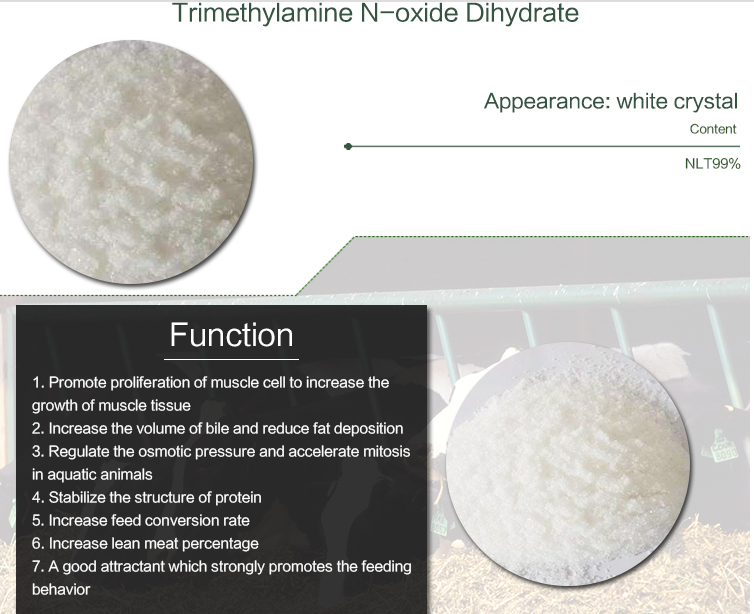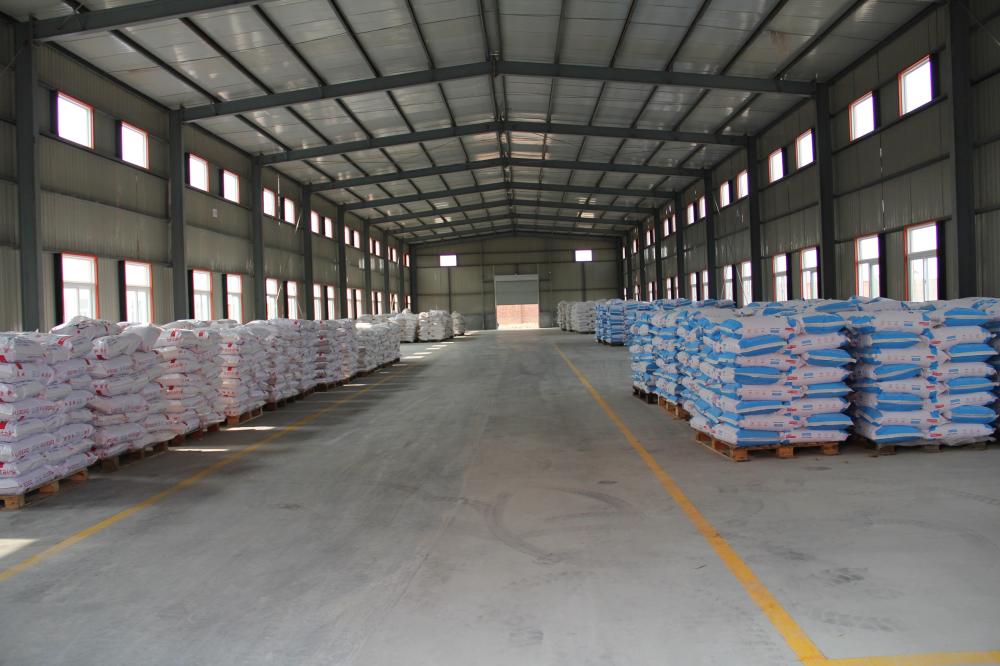 Grupo de Produto : Aquatico Atrativo > TMAO (aditivos aquáticos)